HARMONY-June 2015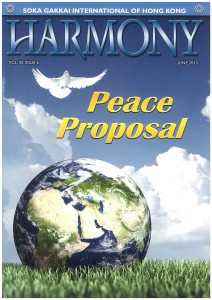 June 2015
Dear Members and Friends of SGI,
Every year, since 1983, SGI President Daisaku Ikeda writes and publishes a peace proposal that is presented to the United Nations. Each proposal has a key theme that focuses on global issues affecting politicians, policy makers and individuals alike. Overall these proposals explore the interrelation between core Buddhist concepts and the diverse challenges global society faces in the effort to realize peace and human security. In addition, President Ikeda has made proposals touching on specific issues affecting society such as education reform, the environment, the United Nations and nuclear abolition. The proposals frequently illustrate the crucial importance of dialogue as a means to break through deadlock in world affairs.
This month we are pleased to present a synopsis of President Ikeda's 2015 Peace Proposal – A Shared Pledge for a More Humane Future: To Eliminate Misery from the Earth. We hope you will enjoy reading this overview and that it will inspire you to read the entire Peace Proposal, which can be found at http://www.sgi.org/sgi-president/proposals/peace/peace-proposal-2015.html.
As President has stated "The key to solving all our problems—whether it be building a secure and lasting peace, protecting our environment, or overcoming economic difficulties—is to cast off apathy and preconceived notions that lead us too view a situation as unsolvable or unavoidable. Problems caused by human beings can be solved by human beings."
"Peace is not simply the absence of war; it is a state in which people come together in mutual trust and live with joy, energy, and hope. This is the polar opposite of war—where people live plagued by hatred and the fear of death."
We hope you will enjoy and be inspired by this month's issue of Harmony.
Skip Williams
Quotes of the Month:
"Prayer entails an intense challenge to believe in yourself and stop diminishing yourself. To belittle yourself is to disparage Buddhism and the Buddha within your life." -www.ikedaquotes.org