HARMONY-July 2015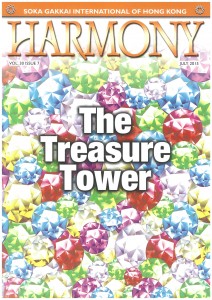 Dear Members and Friends of SGI,
Thank you once again for picking up this issue of Harmony.
As you will read in General Director Ng's editorial, the month of July is traditionally regarded as the "month of youth". It was in July of 1951that both the young men's and young women's divisions were established. Marking this occasion, the youth divisions of Hong Kong SGI will hold their respective commemorative meetings.
As President Ikeda reminds us in his editorial this month:
"The courage of youth is matchless—if fears nothing. The courage of youth is limitless—it never gives up." Let's all do our very best to support our youth division as they hold their much-anticipated meetings.
In this issue we explore the Lotus Sutra's message that each and every one of us is the Treasure Tower. Nichiren Daishonin viewed the treasure tower as an allegory for human life in its enlightened state, achieved through the chanting of Nam-myoho-renge-kyo.
We are proud to reprint an excellent article, The Invisible Reflection, by the late Shin Yatomi, former SGI-USA Study Department Chief and author of the book Buddhism in a New Light. This insightful article touches upon the need for us to "better see ourselves in the mirror of the Gohonzon." Shin reminds us that "When we pray to the Gohonzon, we must reach into our own lives for the hidden gem of Buddhahood".
Our experiences this month are very inspiring and demonstrate that with strong faith, solid determination and lots of chanting, anyone can change poison into medicine and win.
Just a reminder to make sure you renew your subscription to Harmony, that way you will not miss any of the continuing series by President Ikeda, The Wisdom for Creating Happiness and Peace. These installments are extremely encouraging and a must read for everyone, members and non-members alike.
We sincerely hope you will be inspired by the content in this issue, and that it will move you to tap into and reveal your own treasure tower!
Skip Williams
Quote of the Month:
"We have both a weak self and a strong self; the two are completely different. If we allow our weak side to dominate, we will surely be defeated." –www.ikedaquotes.org